History of 21c11 / 35011 and Archive Articles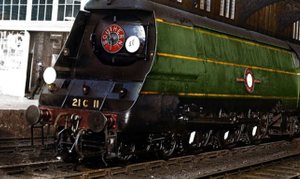 History of 21c11 / 35011
For the background and history of 21c11 / 35011 from introduction in 1944 right up to the present day see our History page here
The naming of 21c11 20th February 1945
Being the first of the second series of ten Merchant Navys built the naming of 21c11 General Steam Navigation Southern Railway Magazine on the 20th February 1945 attracted attention. Click the links below to see the Southern Railway Ceremony Leaflet for attendees and also read about the ceremony reported in both the Souther Railway Magazine and also Modern Transport magazine.
Southern Mixed Traffic Locomotives "Merchant Navy Class" Naming Cermony of "General Steam Navigation" at Waterlo Station Tuesday 20th February 1945 - Attendees leaflet
Southern Railway Magazine - General Stream Navigation joins "Merchant Navy" Class - First of new series of Express Locomotives - March 1945 issue
Modern Transport Magaine - New Series of Southern Railway Pacific Locomotives, General Steam Navigation, Naming Ceremony at Waterloo - 3rd March 1945 issue
Southern Railway Magazine - Victory in Europe edition - May 1945
Our very own 21c11 featured on the front cover of the VE Day May 1945 edition of the Southern Railway Magazine see the relevant pages here
Historical articles and recolections


We always welcome submissions are articles and recollections for publication either within our members magazine "The Packet" either in full or as an abstract with copies of the full articles being available on our dedicated page here.