The Bulleid Boiler
The Bulleid boiler design was a highly efficient steam raiser and "generally recognised as the best of all pacific boilers". The notable characteristics of these boilers was the high pressure of 280psi (although later reduced to 250psi) and the all welded steel fire box.
The first ten boilers were manufactured by North British Limited at their Hyde Park works in Glasgow Eventually 35 boilers were manufactured 10 and NBL, 13 at Eastleigh works and the remaining 12 at Bright works.
Bulleid utilised a welded steel firebox, common place in the USA, rather than copper that both saved weight, at least 1.1/2 tons in the case of the Bulleid boilers, and also reduced the burden of maintenance associated with a copper firebox.
The first ten NBL boilers had the taper on the underside of the front ring and the rear ring parallel, they were riveted in their construction, with the case being welded. The subsequent Eastleigh version had a parallel front ring and a tapered rear ring the represented a further weight saving without reducing the steam surface heating area.
Bullied described the boiler design himself in the December 21st, 1945 issue of the Railway Gazette [see diagram below, click to enlarge] "All the plates of the outer firebox, comprising back plates, wrapper, throat plate and tube plate are welded together. The top flanges of the both syphons are welded to the firebox roof. The inner and outer fireboxes are welded together at the Firehole. All holes in the pressed plates are drilled before assembly. Wrappers drilled on the flat before bending, as are barrel plates before rolling – an advanced technique which has quickened production considerably. The foundation ring, double riveted throughout, is welded from four pieces."
The higher 280psi working pressure allowed for a greater traction effort from smaller cylinders saving reciprocating weight.
The boilers were interchangeable and although originally fitted with boiler No. 1100 the first manufactured at Eastleigh, our 35011 was fitted at the time of rebuilding with boiler No. 1097 in July 1959, from the original batch of ten riveted type manufactured by North British Limited in 1940.
Thermic Syphons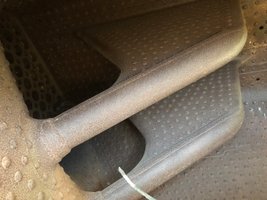 Within the fireboxes were two Nicholson thermic syphons, essentially flattened funnels, that not only increased the surface area being heated but also supported the brick arch within the firebox, allowing it to be higher and give greater air circulation over the fire. Through these syphons water circulated from the body of the boiler through the firebox areas and back up to boiler via the crown water space above the boiler.
This arrangement in generally accepted to have increased boiler efficiency by up to 10 percent. In addition, they provided a greater safety margin when water levels within the boiler were low, especially with the higher working pressure of the boiler.