Historical Articles and Recollections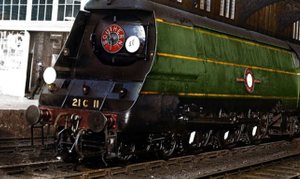 We always welcome submissions are articles and recollections for publication either within our members magazine "The Packet" either in full or as an abstract with copies of the full articles being available on their dedicated page below.
On the road with 35011
Paul Silvestri provides a selection of logs that is representative of normal running on scheduled service trains during the period 1959 to 1965, i.e. after GSN had been rebuilt.
Read more ...
35011 at Nine Elms - A Merchant Navy pacifics finest hour - Alan Newman




Alan Newman was a Nine Elms Engineman between 1962 and 1967, he has kindly allowed us to reproduce his article
"35011 at Nine Elms "Just another day doing the best job in the world, with the finest steam locomotives ever built"
Read this extraordinary achivement by 35011 here
35011 the first Merchant Navy on the Somerset and Dorset
Read a number of articles about 35011 appearances on the Somerset and Dorset in 1966
General Steam Navigation the Shipping Company
We recently heard from one of our members, Alan Peake, by way of a fascinating email. Alan's background is the shipping company itself, rather than the Southern Railway.
William George Peake - a life with GSN Co.
His late father, William George 'Bill' Peake (1899-1962) joined the GSN Co. as an apprentice engineer at their Stowage Repair Works at Deptford in 1916.
Read more...
William G Peake - Talk to Paddle Steamer Preservation Society
WILLIAM G. PEAKE M.R.I.N.A., M.I.Mar.E. Managing Director, New Medway Steam Packet Company Ltd. gave a talk to the London and Home Counties Branch of the Paddle Steamer Preservation Society on 16th December 1961.