Aims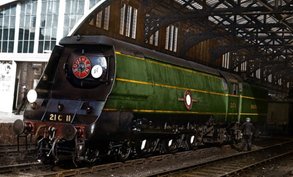 The Society aims to restore the Merchant Navy locomotive 21c11 / 35011 to her original as built condition complete with air smooth casing and Bulleids unique chain driven valve gear. Retro-converting a Merchant Navy has long been debated since the days of Barry Scrap Yard with 11 of the 30 members of the class surviving the cutters torch. General Steam Navigation went to Barry in June 1966 with most of her running gear missing and critically no crank axle. This has put GSN in a rather unique position compared to her sisters as the cost of restoring her to either rebuilt or original condition are fairly similar.
We endeavour to promote education in technology and engineering associated with the preservation and restoration of hertiage steam.
How to Support Us
You can help with the restoration of 21c11 / 35011 back to her original condition as Bulleid intended in a number of ways ranging from becoming a member, being a Shareholder, Sponsorship, volunteering, for details on our latest campaign check out our Just Giving page here or by making donations, click here for more details on ways to get involved.
Latest News
09/07/2020
The July update featuring the latest engineering news, new clothing range, rearranaged fundraising coach trip and components available for sponsorship.

05/07/2020
A post marking the 89th anniversary of the first run of the Bournemouth Belle.
26/06/2020
Look great and support us with our new range of branded clothing click here to find out more and how to order
03/06/2020
Slight update to our links page to add a link to the new 35006 website to our links page here...

20/05/2020
The May engineering update including some new cladding, CAD models and the latest on the locomotives strip down.