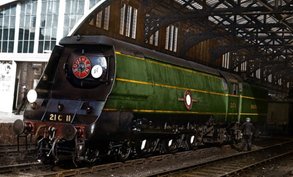 Restoring Bulleid Merchant Navy 21c11 /35011 to original condition
The Society aims to restore the Merchant Navy locomotive 21c11 / 35011 to her original as built condition complete with air smooth casing and Bulleid's unique patented chain driven valve gear.
Retro-converting a Merchant Navy has long been debated since the days of Barry Scrap Yard with 11 of the 30 members of the class surviving the cutters torch. General Steam Navigation went to Barry in June 1966 with most of her running gear missing and critically no crank axle. This has put GSN in a rather unique position compared to her sisters as the cost of restoring her to either rebuilt or original condition are fairly similar. We are recreating the missing link in preservation.
We also endeavour to promote education in technology and engineering associated with the preservation and restoration of heritage steam.

How to Support Us
You can help with the restoration of 21c11 / 35011 back to her original condition as Bulleid intended in a number of ways ranging from becoming a member, being a Shareholder, Sponsorship, volunteering, for details on our latest campaigns check out our Funding Campaigns page here or by making donations, click here for more details on ways to get involved.

We also have a range of merchandise and embroidered clothing available from our online shop here.
The National Lottery Heritage Fund
Having had our Expression of interest accepted by the London and South Panel of the NHLF in June 2023, we now have twelve months to complete a highly detailed Stage One application along with our strategic application partners, the primary partner being, our home, The Swindon and Cricklade Railway.
The application is focussed around the reconstruction and restoration of the Merchant Navy Pacific to original Bulleid condition, making it unique in preservation. Whilst the work on 35011 meets the "Saving Heritage" element of the bid, the other key Heritage Fund investment principles will be partially addressed with a new building at Blunsdon to encompass engineering facilities together with training and education spaces.
For more details click here...
Latest News
04/12/23
We have had a small number of places become available in our 20/20 club, join now, first come first served. Especially good timing as the December draw has enhanced prize values.
Click here for details on how to join.
30/11/23
The winners of our November 2023 35011 Twenty Twenty Club draw have been announced.
Check our winners roll here...
27/11/23
Our members should by now have received their copy of our members magazine 'The Packet' Issue 21, with all the latest news and updates about our project.
If you are missing out by not being a member you can join the Society easily online here...
23/11/23
We are delighted that Dr. Alice Bunn OBE (FIMechE FRAeS CEng) the Chief Executive of the Institution of Mechanical Engineers (IMechE) has become patron of the project to restore the Bulleid Merchant Navy pacific locomotive 35011 to her original condition.
For more details on the appointment of our Patron click here...
General Steam Navigation CIC welcomed Justin Tomlinson, MP for North Swindon, who visited Blunsdon at the Swindon & Cricklade Railway to view 35011 General Steam Navigation and discuss the current application to the National Lottery Heritage Fund.
30/10/23
Now the clocks have gone back and winter is approaching, it is time to refresh your wardrobe to be suitably dressed whatever the weather…

Our high-quality clothing range includes a range of warm items to snuggle in. These items & more can be ordered direct from our online store here
27/08/23
Our latest Summer 2023 Engineering Update is live.
20/08/23
Our latest Limited Edition N Gauge wagons, this time based on the Dapol 20t Mineral Wagon are now available in either Red or Grey livery.
Click here to order via our online store...
12/06/23

Our latest Limited Edition 00 Gauge wagons, this time based on the Dapol 7 Plank Open Wagon are now available in either Red or Grey livery.
Click here to order via our online store...
10/06/23
*IMPORTANT* for administrative purposes our Facebook page has changed, our new *Official* Page and discussion group can now be found here at https://www.facebook.com/35011GSNLRS Please visit and like us to stay connected on Facebook.
21/11/22

Our latest Limited Edition 00 Gauge wagons, this time based on the Dapol 14T Rectangular Tank wagon are now available in either Bauxite Red or Grey livery.
Click here to order via our online store...
14/10/22
The Component Sponsorship scheme returns with a number of components available for sponsorship
The Supporter Roll of Honour page is now live, to see how you can support us click here for details...
Visit the Suppporter Roll of Honour here...