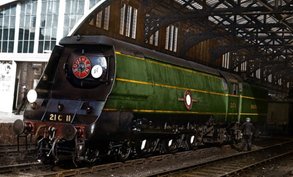 Restoring Bulleid Merchant Navy 21c11 /35011 to original condition
The Society aims to restore the Merchant Navy locomotive 21c11 / 35011 to her original as built condition complete with air smooth casing and Bulleid's unique patented chain driven valve gear.
Retro-converting a Merchant Navy has long been debated since the days of Barry Scrap Yard with 11 of the 30 members of the class surviving the cutters torch. General Steam Navigation went to Barry in June 1966 with most of her running gear missing and critically no crank axle. This has put GSN in a rather unique position compared to her sisters as the cost of restoring her to either rebuilt or original condition are fairly similar. We are recreating the missing link in preservation.
We also endeavour to promote education in technology and engineering associated with the preservation and restoration of heritage steam.

How to Support Us
You can help with the restoration of 21c11 / 35011 back to her original condition as Bulleid intended in a number of ways ranging from becoming a member, being a Shareholder, Sponsorship, volunteering, for details on our latest campaigns check out our Funding Campaigns page here or by making donations, click here for more details on ways to get involved.
We also have a range of merchandise and embroidered clothing available from our online shop here.
Priority Fund Campaign
Our current immediate funding objective is to restore the unique fabricated trailing truck that has led to the Trailing Truck Transformers Fund Club being set up to fund restoration of this unique component in 2021. To find out about how to be a part of the exclusive Trailing Truck Transformers Fund Club, click here...
Latest News
29/11/21
The winners of our November 35011 Twenty Twenty Club draw have been announced.
Check our winners roll here...
19/11/21
#ThisWeek in 1951, General Steam Navigation becomes the last Southern Railway built Merchant Navy to lose the Malachite livery.
10/11/21
Our collaboration with Loughborough Universtity continues and our CME and students visit 34039 Boscastle to look at the smokebox and exhaust arrangements.
Our webpage on the Loughborough University collaboration has been updated with the new project here...
06/11/21
#OnThisDay in 1948, General Steam Navigation re-entered service after overhaul at Eastleigh works with an updated livery and new number.
02/11/21
We are visiting our friends the Gloucestershire Warwickshire Steam Railway this weekend the 6/7th November, with our sales stand for their 40th Anniversary gala. Come along and say hello.
More details on the gala event here...
30/10/21
The winners of our October 35011 Twenty Twenty Club draw have been announced.
Check our winners roll here...
We still have the very last few places remaing find out how to join here...
11/10/21
The October Update featureing news on our trailing truck arriving at the North Norfolk Railway where it will be restored by a specialist engineering team, GSN on TV and our new limited edition wagons.
05/10/21
HORNBY: A Model World new TV series to air on Yesterday TV Monday 11th October and features 35011 General Steam Navigation Locomotive Restoration Society.
30/09/21
The website has been recently updated with a new pages about, What's in a name & number, the history of the General Steam Navigation Company whose name we bear and also our Railway Mania Podcast.
05/09/21
Out latest Limited Edition model wagons, N Gauge GPVs in red or blue, in co-operation with the Medway Queen Preservation Society are now available from our online store.
07/08/21
The website has been upated with a new page in our Technical and Education Centre on the Bulleid Merchant Navy cab and its fittings, also our Governance, Trustees and Board page has been updated.
03/08/21
General Steam Navigation Locomotive Restoration Society awards contract for Trailing Truck restoration and confirm the grade of steel for new crank axle. A great step forward for the Project.
09/07/21
#OnThisDay in 1967 the last Bournemouth Belle ran direct between London Waterloo and Bournemouth Central.
04/07/21
#OnThisDay in 1959, General Steam Navigation re-entered service after rebuilding from it's original form, which we are working to reverse. Attached to it was boiler 1097 the same boiler GSN still has today and is the perfect opportunity for an update on the work carried out on it.
01/07/21
It was 5 years ago today that locomotive 35011 General Steam Navigation was officially signed over to the General Steam Navigation CIC.