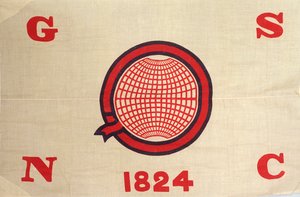 General Steam Navigation - the shipping line
The background to the naming of Merchant Navy pacifics such as our 21c11 / 35011 can be read here, for the history of the General Steam Navigation Company whose name and flag we bear, read on...
In 1821, a group of London businessmen including W J Hall and T Brockelbank formed a syndicate to develop steamship services. Their first steamer was the James Watt which inaugurated their London to Leith service in 1821. Also running at that time, between London and Margate, was Brockelbank's own Eagle, the first in a long line of Thames paddle steamers to bear this name.
In June, 1824, the group established a joint stock company for navigating by steam'. The General Steam Navigation Company was incorporated by an Act of Parliament.
Its founders intended to establish world-wide shipping links, and the company's house flag therefore centred upon a globe, but in the end GSN's operations rarely moved beyond the UK and near-Continental trades, and the Mediterranean. The company distinguished itself as the first British company operating a steamer service to foreign ports, and the earliest steam-ship undertaking on the Thames.
GSN was at first confined to the passenger business, most notably the London to Margate service which became immensely popular and for several years the annual number of passengers exceeded a million. It was not until the late 1820s that GSN applied to the government for permission to transport cargo.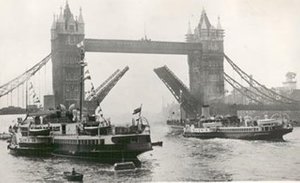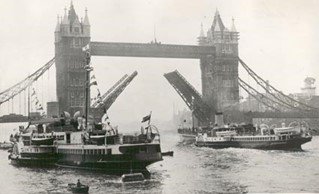 In addition to GSN's routes already in existence between London, Hull, Leith, services to Ipswich, Newcastle, Sunderland and Berwick were added. Before long, regular services were opened up between London, Hamburg, Rotterdam, Antwerp, Ostend, Calais, Boulogne, Lisbon and Gibraltar and from Brighton to Le Havre and Dieppe.
By August 1825, GSN possessed a fleet of 15 steamers. In 1836, GSN further expanded by acquiring the business of the London and Edinburgh Steam Packet Company, consisting of six steamships and at about the same time, the steamships of a rival Thames company, the Margate Steam Packet Company, were also purchased.
Following the First World War the successful GSN was owned by the majority of its shares by the Peninsular and Oriental Steam Navigation Company, although GSN continued to operate as a separate entity and made further acquisitions including Great Yarmouth Shipping Company, Moss Hutchison Line, New Medway Steam Packet Company and by 1958 Grand Union (Shipping).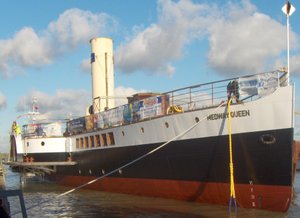 At the start of the Second World War GSBN had approximately 45 ships, of which 10 were pleasure boats including for example Medway Queen. These were ideal as they could carry up to 2000 passengers at up to 21 knots. These, and some of the Company's cargo boats, saved around 10% of all those rescued from the French beaches at Dunkirk.
In the 1950s GSN extended its shipping services to Canadian waters and also acquired control of Silver City, as well as flying boat operators Aquila Airways, but these investments were neither successful nor long-lived.
By the mid 1960s GSN's Thames excursion services had been closed. GSN became a leading player in two Anglo-European consortia, North Sea Ferries and Normandy Ferries, that evolved into P&O Ferries in October 1971, and its former operations became part of P&O European and Air Transport Division, the sea fleet being merged with Coast Lines operations as P&O Short Sea Shipping, soon to be rebranded P&O Ferries.
Historical articles regarding the General Steam Navigation Company provided by our member Alan Peake can be read here.