Electricity Generation, lights and Engine Head Signals
Another recognisable feature of Bulleid pacifics was the electric lamps fore and aft and also within the cab. Electricity was generated on board by a "Stones steam generator".
Stones Generator
Electricity was generated on board by a "Stones steam generator", manufactured by J Stone and Company from Deptford, London
Josiah Stone and others established this engineering company in 1842. The company became involved in the supply of electric lighting systems, dynamos and batteries for railway carriages world-wide as well as steam-powered generators. The railway product range further diversified before the company was taken over by Platt Brothers in 1958, trading as Stone-Platt Industries until closure in 1982.
These were an effective way of generating a 24v supply via a small steam turbine and dynamo and were mounted underneath the cab floor on the driver's side
Electric lighting
Bulleid provided electric lamps on his pacifics at each of the six lamp iron positions at the front of the locomotive and the rear of the tender, to negate the need for a traditional paraffin locomotive lamp to be carried. On the tender rear an additional central downwards facing lamp was provided to illuminate the area when coupling up.
These loco lamps as illustrated right contained a 24v 20w lamp with switch.
To aid the crew at night within the cab ultra violet lamps illuminated various controls and water gauges. Lamps were also positioned under the casing to illiuminate the driving wheels to aid oiling up at night.
Engine Head Signals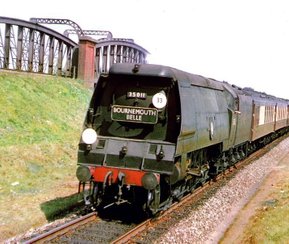 The Southern Railways used "Engine Head Signals" to use their proper name, either via white discs or lamps (at night but also daytime) not to denote the class of train e.g. express passenger, local passenger, goods etc. like the other railway companies, but the route that the train was taking.
This utilised six disc / lamp positions to allow a number of combinations (33 different combinations in 1944) of up to three discs / lamps in general (the exception being the Royal Train utilising four positions) to indicate the route. The full list of these combinations can be found on the SREmG website here.
With 21c11 / 35011 being a regular on the Waterloo – Bournemouth line and often on the all Pullman "Bournemouth Belle" she would therefore carry a disc Middle Right and Bottom Left as per the image to the right, not only can the discs be seen but also the electric lamps.