Introduction
O.S.V. Bulleid became the Chief Mechanical Engineer of the Southern Railway in 1937, having previously been assistant to Sir Nigel Gresley on the LNER. A year later authorisation was given for ten new mainline engines, which eventually first emerged from Eastleigh on 18thFebruary 1941as the 4-6-2 Merchant Navy Pacific Class. No. 21c1 "Channel Packet"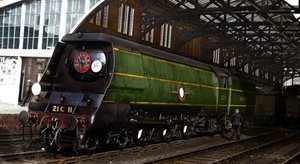 As well the new to UK style of number and distinctive 'Air Smoothed' casing they featured many novel engineering features including: Bulleid own version of the American Box Pox wheels known as Bulleid-Firth-Brown, a high boiler pressure of 280psi., fully welded steel firebox with thermic syphons, clasp brakes, a steam driven electrical generator providing headsignal lamps, inspection and cab lighting, a well-designed, spacious and practical cab layout including steam operated fire doors. The most novel was probably the totally enclosed motion encased in an oil bath situated between the frames. The motion also featured a chain driven three throw crank shaft operating valve gears for each cylinder.
21c11 - Southern Railway
21c11 "General Steam Navigation" was the first of the second batch of ten members of the class and having been built at Eastleigh, to order 1189, entered service on 30th December 1944 in wartime black livery allocated to Nine Elms shed. She was slightly unique to other members of this batch in having a distinctive casing at the bottom of the cylinders to the front buffer beam. She was officially named on 20th February 1945 at Waterloo Station by Mr R. Kelso the Chairman of the General Steam Navigation Company. She received full lined malachite livery in 11/01/47
35011 - British Railways
After the formation of British Railways, she was renumbered to 35011 retaining lined malachite green with BR Gill Sans numerals and lettering. As with all members of the class the front of the cab was modified from the 'flat front' to the 'wedge' style to give improved forward visibility for the crew in September 1950. Unlike most members of the class, 35011 never carried British Railways Blue livery and was repainted into BR Breen November 1951. Following a brief three-month allocation to Bournemouth from January 1954 she was back at Nine Elms until being allocated to Exmouth Junction in June 1957.
All members of the Merchant Navy class were rebuilt or modified, after the first in the class 35018, retaining the boiler, frames, outside cylinders, wheels, removing the oil sump and air smoothed casing and replacing the valve gear with three sets of Walschaerts gear, a new middle cylinder, reverser, smokebox, ashpan and grate. 35011 re-entered service on 4th July 1959 having run 670,782 miles in her original form. She was finally allocated to Bournemouth (some say her spiritual home) in March 1960. 35011 was withdrawn from service in February 1966 having run a total of 1,069, 128 miles, 398,46 in rebuilt form. Having been stored at Eastleigh she was sold to Woodhams Brothers in Barry in March 1967.
Early preservation
35011 was purchased for preservation and left Barry in March 1983 and was stored in Brighton Preston Park, then RAF Binbrook in Lincolnshire until 2007. She then moved to Williton on the West Somerset Railway, where her centre crank axle was swapped with a plain axle from Bulleid Light Pacific West Country Class No. 34046 Braunton.
She was then moved to a private site at Sellindge in Kent during 2009.
General Steam Navigation Locomotive Restoration Society
Ownership of 35011 was transferred to the current General Steam Navigation Locomotive Restoration Society in 2016 and the project to restore her to original air smoothed condition complete with new crank axle, middle cylinder and chain link valve gear in an oil bath.
In April 2019 35011 was moved to her current home on the Swindon and Cricklade Railway, enabling her to be under cover for the first time since 1966 and enable the restoration to continue at a greater pace. It is intended that the boiler will be lifted during 2020 to enable the full chassis restoration work to commence.
To become a member of the General Steam Navigation Locomotive Restoration Society, click here or for details on how to become a Shareholder click here.